Northwest Envirofan Model #260F-7 White Industrial Variable Speed Ceiling Fan (60" Downflow, 43,500 CFM, 5 Yr Warranty, 120V)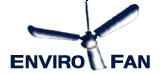 Features
Industrial Ceiling Fans Come Completely Assembled (except blades).

Cast Iron Motor Housing

. Sealed, Thermo-Protected, Moisture and Dust Resistant.

Aerodynamically Curved Aluminum Blades.

UL Listed -.Meets All 507 Standards

16" Cord w/3 Prong Plug. Secondary support cable.

Perfectly Balanced, Smooth Quiet Operation.

5

Year Manufacturer's Warranty.
Note: These fans are variable speed (inifinte range) and made to work with a solid state
rheostat speed
controller which is sold seperately.


Customer Reviews





(0.00)

stars out of 5
(Only registered customers can rate)