Ceiling Fans → Agricultural Ceiling Fans → Canarm Ltd. Model #CP60 HPWP White Heavy Duty Industrial and Agricultural Variable Speed Ceiling Fan (60" Reversible, 46,000 CFM, 3 Yr Warranty, 120V)
Canarm Ltd. Model #CP60 HPWP White Heavy Duty Industrial and Agricultural Variable Speed Ceiling Fan (60" Reversible, 46,000 CFM, 3 Yr Warranty, 120V)
CP60HPWP Fans are Discontinued and No Longer Available. Please see Model INDB60MR4LP Ceiling Fans CLICK HERE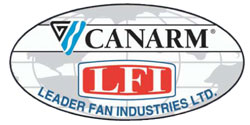 Features
Engineered and designed for general applications where above average area coverage and cooling velocity are required.

Reversible motor for both winter heat de-stratification and summer time cooling (except CP56HPWPC is downdraft only).

All fans are sealed and suitable for high moisture application (All High performance Fans are Waterproof).

All High Performance Fans have straight blades and heavy-duty motors for higher air movement and better cooling capacity.

Heavy Duty Motors and Bearings built for long life and maximum output. These Industrial Ceiling Fans are ideally suited for agricultural buildings.

3 Year Manufacturer's Warranty.
*Note: These fans are variable speed (infinite range) and made to work with a solid state
rheostat speed controller which is sold separately.

The speed controls shown on this page
are not designed for wet locations. They must either be mounted in a dry location or under
a weatherproof box.
Model #FRMC-5 is required
to change
direction of the fan from
downdraft to updraft. Ceiling fan speed control models MC-3,
MC-5, MC-10,
MC-1 & CQ004 can be used with reversible ceiling fans for downdraft
speed control only.
Customer Reviews





(1.00)

stars out of 5
(Only registered customers can rate)
1.
Martin
on 6/14/2016, said:
1 stars out of 5





I have two of these ceiling fans in my 32' x 60' x 12' workshop. I am extremely disappointed each time I try to use them to create some airflow to help cool me while I work on projects. They move air so poorly I don't even understand how they could be sold as ceiling fans. No joke. I also have the FRMC5 controls. One for each fan. They are a nice addition. I hope I can use them when I install my replacement fans. I am going to remove the cp60's, and drive over them with my tractor to destroy them rather than selling them to some poor soul. I do not want anyone wasting time and money to install them in their ceiling.
(4 people found this comment helpful, 3 did not)
Showing comments 1-1 of 1