Canarm Ltd. Model #CP56 BR Brown Commercial Variable Speed Ceiling Fan (56" Reversible, 20,500 CFM, 5 Yr Warranty, 120V)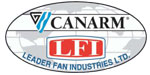 CP56 BR Fans are Discontinued and No Longer Available.
Features
All "CP" series commercial ceiling fans have variable speed motors (all motors are thermally protected PSC type variable speed with permanently lubricated bearings). When used with our "MC" series speed controls the speed range is infinite.

Painted steel blades with curved ends deliver maximum airflow over wide areas.

All models except the CP56 C&P (cord & plug) are reversible. (CP56 C&P is downdraft only).

Reversible motor provides both winter heat destratification and summer time cooling.

5 Year Manufacturer's Warranty.




*Note: These fans are variable speed (inifinte range) and made to work with a solid state rheostat speed controller which is sold seperately.
Model #FRMC-5 is required
to change direction of the fan from downdraft to updraft. Ceiling fan speed control models MC-3, MC-5, MC-10,
MC-15 & CQ004 can be used with reversible ceiling fans for downdraft speed control conly.
Customer Reviews





(0.00)

stars out of 5
(Only registered customers can rate)