Canarm Ltd. brand Model SD (Two Speed) Standard Duty Shutter Mount Direct Drive Wall Exhaust Fan CFM Range: 300-3,440 (Sizes 8" thru 20")
Available in 8" to 36" sizes.

Single, two and variable speed motors are available.

All fans use a totally enclosed, ball bearing motor with thermal overload protection.

The motor mount is manufactured with heavy welded rods and has a powder coated finish.

The fan blades are well-balanced, heavy gauge aluminum.

The rugged steel welded box housing has a durable powder coated finish.

Aluminum shutter are supported by long life nylon bushings (30" and 36" have PVC shutters).

All fans are shipped completely assembled.
Leader Fan Number

Blade Dia.

RPM

H.P.

Curent Load Amps @ 115V

CFM @ Static Pressure

Sound Level Decibel (A)

Framing Dimension

Weight

LBS.

0"

0.1"

0.125"

0.250"

Two Speed Fan

S8-B2

8"

high

1600

1/

40

0.5




360

270

230

0

48

11"x11"

12

low

1300

300

150

110

0

4

3

S

10-B2

10"

high

1600

1/40

0.5

690

590

570

0

56

13"x13"

13

low

1300

580

460

390

0

5

0

S1

2-E2

12"

high

1725

1/4

3

.4




1650

1550

1520

1300

64

15"x15"

32

low

1140

1090

950

930

--

50

S

14-E2

14"

high

1725

1/

4

3.8




2180

2080

2060

1890

65

17

"x17"

34

low

1140

1350

1190

1

160

2060

53

S16-E2

16

"

high

1725

1/4

3.4




2380

2280

2230

2070

69

19

"x19"

36

low

1140

1640

1

490

1

430

--

55

S18-F2

18"

high

1725

1/3

5.3/2.9

3200

3090

3040

2920

7

4

21"x21"

43

low

1140

2100

1890

1820

--

64

S20-F2

20

"

high

1725

1/3

5.3/2.9




3440

3240

3180

2930

77

2

3"x23"

45

low

1140

2300

2000

1950

--

67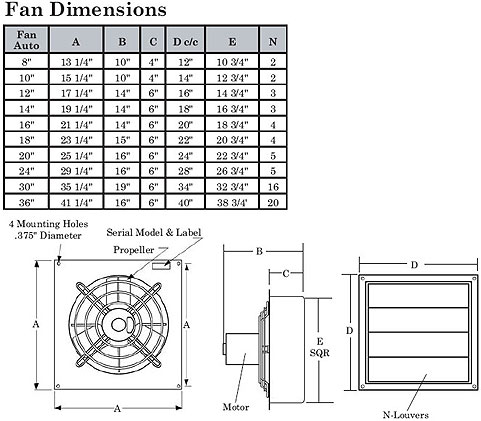 Printable Manual
(505 kb)
Customer Reviews





(0.00)
(Only registered customers can rate)