Northwest Envirofan Model #190C-7 White Industrial/Agricultural/Severe Service Variable Speed Ceiling Fan (56" Reversible, 34,500 CFM, 120V)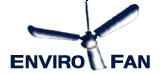 Features
Neoprene deflection boot makes Agrifan spray proof and dust proof.

Wire Leads.

Aerodynamically designed straight 56" blades for maximum air delivery.

Precision-balanced lightweight aluminum blades for smooth, quiet operation.

All metal. No plastic.

Permanent, sealed, heat resistant ball bearings.

Totally enclosed .64 amp heavy duty motor with resistance protection.

Corrosion-resistant baked epoxy prime and finish coats on all metal housings and blades.

Neoprene sealed motor case.

Heavy-duty neoprene seals repel water and dust.

One-way condensation relief plug.

Simple J-hook mount.

9.5mfd non-polar, weatherproof, encapsulated, extra heavy-duty capacitor.

High grade silicone steel motor laminations for maximum energy efficiency.

UL Listed Water Spray Tested and Approved.

*Note: These fans are variable speed (inifinte range) and made to work with a solid state
rheostat speed controller which is sold separately.

The speed controls shown on this page
are not designed for wet locations. They must either be mounted in a dry location or
under
a weatherproof box. Model #105FR speed control is required for reversing capability.


Customer Reviews





(5.00)

stars out of 5
(Only registered customers can rate)
1.
John
on 6/20/2019, said:
5 stars out of 5





The fan is great and does exactly what I need it to. And the AIRDISTRIBUTOR company is first-rate in every respect! I was extremely happy with thier customer service!
(1 people found this comment helpful, 0 did not)
Showing comments 1-1 of 1
Related Products
8 Total Related Products